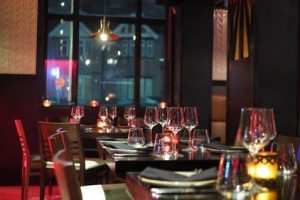 How Restaurants Can Cater Towards Guests Who Smoke
Public smoking bans are in place across many countries around the world, with the list of countries introducing them growing. Such bans mean that restaurants aren't able to allow guests to smoke inside the premises, typically not even in a separate area specifically for smokers. This doesn't mean that smoking guests can't be accommodated however, and here are some tips for how restaurant owners can cater towards their guests who smoke.
Smoking Areas
To start with one of the more obvious accommodations than can be made, outdoor smoking areas allow restaurants to cater towards guests who smoke without breaking any indoor smoking bans. A smoking area should provide adequate seating and possibly tables too, allowing guests to sit down and take drinks outside. Heating can also be provided, along with shelter, to protect customers from cold and wet weather. Smoking areas shouldn't be too close to entranceways to their restaurant, preventing the smell of smoke from entering the building which could be off-putting for non-smoking guests.
Sell Smoking Alternatives
With the number of countries seeking to ban indoor smoking growing, the number of people seeking to quit smoking is also increasing. For people stopping the habit, or even those who simply don't want to go outside, providing alternative such as snus nicotine pouches can be a good way of generating extra sales income for your restaurant and catering towards different kinds of guest. Smoking alternatives such as snus pouches are a healthier option to conventional cigarettes, whilst also tasting much better, being discrete and leaving behind no bad smells. Snus pouches can allow guests to get their nicotine fix without having to regularly leave the table to go outside, which can often be seen as socially rude.
Outdoor Eating
A further way that smoking guests can be catered towards is to provide eating outside the restaurant as an option. Outdoor eating areas can be created, which will be especially popular in the summer months and in warmer countries, where customers can smoke without having to leave their table. It's advised that you consider having seperate outdoor eating areas for smokers and non-smokers, meaning that non-smokers don't have to be around all the smoke if they wish to eat in the great outdoors. Have umbrellas at the tables to protect from direct sunlight, with comfortable seating and nice tables that're weather proof too.
Overall, smokers can still be accommodated by restaurants even despite smoking bans. Outdoor smoking and eating areas can allow guests to still smoke whilst enjoying time at your restaurant, whilst smoking alternatives such as snus pouches can be sold to provide extra convenience to customers and even create an additional revenue stream to increase your businesses profits.