Ithaa
Ithaa is the first and only restaurant in the world that is totally under water. It is small and cozy, with dimensions that measure only 5 metres by 9 metres and can therefore only hold 14 people at any given time. The restaurant is transparent and gives a great view of the entire surrounding ocean area with transparent walls, roof and panoramic views of the surrounding marine life and scenery.
M.J. Murphy Ltd. Is the brains behind the operation, having designed and built this unique and one of a kind space back in 2005. The restaurant, since its debut in 2005 has been a great success and has a menu that has evolved over the years with the current style being self described as a menu largely influenced by European as well as Asian culture and tastes and style.
It was in 2004 that this consultancy firm was approached by another local company in the Maldives to partner and to create this stunning restaurant. The Crown Company who approavehed M.J. Murphy owns several islands in the Maldives and surrounding area and therefore has a vested interest in the islands and their economic and overall welfare. Different parts of the restaurant from the staircase in the entrance to the beautiful clear tunnel.
Interestingly, Ithaa was built in Signapore and had international inf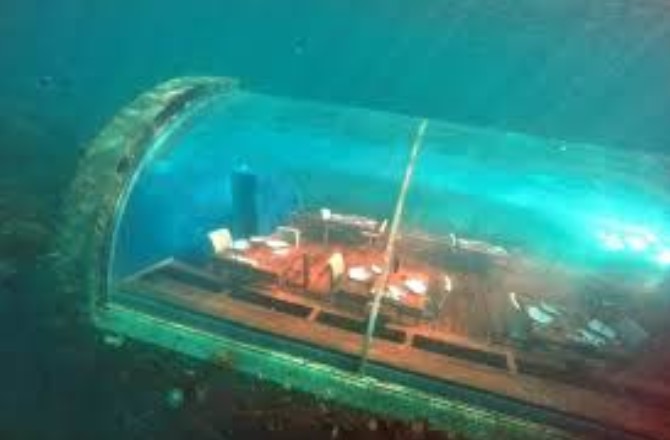 luence and when it was completely built and ready to go, it was moved from Signapore, by barge, to the Maldives where it currently exists. Once it arrived by barge at the destination (the Maldives), it was sent underwater using sand ballast. The restaurant house sand ballast within and using concrete and a lot of help from science.
The entrance is a spiral shaped staircase that is carefully designed and is located at the end of a pronounced jetty. The restaurant is well constructed and built to be both safe and beautiful. Even the wrath of the tsunami that ravaged and devastated the Indian Ocean in early 2005 did not harm or even slightly damage the restaurant. The restaurant itself is subtly decorated and aims to keep the focus on the experience and the surroundings. The ambience is somewhere between casual and fine dining.
The restaurant requires a reservation well in advance and books up months ahead. The restaurant is a popular destination for events, private parties and even weddings. There was a period of time where Ithaa even let guests stay overnight, to celebrate the restaurants 5th anniversary. The restaurant has been in existence since 2005 and has a life span of 20 years, based on the estimates of those involved in the construction of the restaurant.There have been some big names and A list celebrities who have enjoyed and dined at the restaurant since it opened in 2005.